Kung Fu for children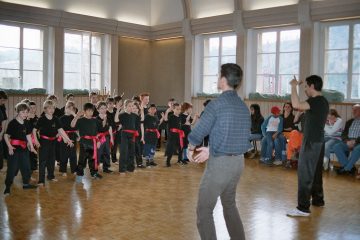 Tibetan Kung Fu promotes the concentration and coordination ability and also the emotional balance and selfconfidence. This – together with breathing exercises – strengthens the body and mind.
Tibetan Kung Fu is a pleasure for children, because from begin on they do practice a lot of partner exercises to build the reflexes. The techniques are round and soft, combined with constant movements (footwork).
Tibetan Kung Fu has the philosophy, to be respectful with all human beings, all beings at all and therefore we do emphasize the self-defence aspect and not the attacking aspect.
Training location
Zentrum für Gehör und Sprache
Frohalpstr. 78
CH-8038 Zürich
Courses and dates