Seminar in Thailand – Activ holiday and relaxation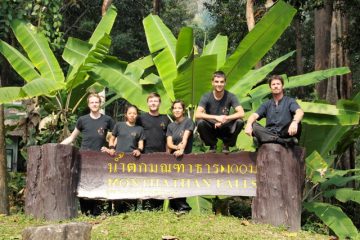 The Kung Fu and Qi Gong seminars in Thailand have tradition since 1999. During 2 weeks – monday till friday – we practice 5 hours daily in the rain forest, close to a waterfall. We use the natural elements as wood, water and earth for our training exercises. Every day of practice, you feel, that you get stronger and more vital.
After years of studying in Chiang Mai, the teachers of the seminar do also have the knowledge to introduce you into the Buddhist culture as: temple tour, visiting markets, Trad. Thai Massage, Kantoke dinner etc.
The seminars are for beginners as well as for advanced. They are also for singles, who love to combine sport and relaxation and are interested into the culture of Asia. We offer the courses in German and English.
Our seminars have the following contents:
Tibetan Kung Fu and self-defense
Zhineng Qi Gong
Next Seminar:
The next seminar is likely to take place from Mon 6. Jan – Fri 17. Jan 2020.
Price:
Course:
2 Weeks: CHF 1260.-
Teachers:
Tibetan Kung Fu/self-defense:
Jürg Rotmann
Zhineng Qi Gong:
Xiaowu Wei Rotmann and Jürg Rotmann
Infos and registration:
Telefon: +41 (0)79 / 216 64 94
E-Mail: info@tibetankungfu.ch